On March 7, Donna Avery shared this photo  on our Facebook page. Within hours, people were asking questions and raving about Donna's project. We asked her if she'd tell a little more about the garden, and she did:
What inspired you to plant this garden?
My handyman and I came up with the garden plan together, But it was your beautiful blue beds that were the inspiration for this project. Most of the time I do the work myself but this job was too big for me. The area is framed with non-pressure-treated wood. Even though the wood would never touch the beds I felt the garden would not be truly organic with pressure-treated wood anywhere in the garden. After the framing was done, gravel was put in and the beds and liners were installed. The last step was a layer of decomposed granite.
Where does garden fit into your landscape?
The area I used was just a part of my lawn. If I have my way I will replace the whole lawn with blue garden beds in the next year. So please, don't stop selling them!
When did you start?
The garden was built in January. Thank God for our beautiful southern California weather. I live in Sunset garden zone 18, in the San Fernando Valley.
What about the white fencing? Decorative or functional? The fencing was for one reason, and her name is Piper, my 3-pound (at the time) black poodle mix puppy. As soon as I put the fencing in and planted my strawberry plants, Piper stuck her head through the fence pulled out one of the plants and ran like hell! Well at least she stopped jumping in the beds. My animals are one of the reasons I have only edible plants in my garden.
How do you plan to keep it watered?
I love to water! It is calming and I do my best thinking when I am watering. I did buy a soaker system and may use it when I am away.
What have you planted?
I planted tomatoes, peppers, carrots, radishes, lettuce, celery, spinach, cucumber, zucchini, Swiss chard, basil, beans, eggplant and edible flowers on the edges of the beds. I start planting in Jan. I know I am taking a chance planting so early, but for the last few years it has paid off, and I have tomatoes until October! Now that I have the beds I plan to try some winter planting.
How much soil?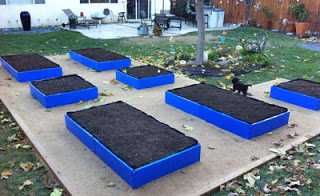 Use the Soil Calculator to determine quantities and get the "recipe" for a good planting mix.
Any lessons learned? Things you'd have done differently?
The only thing I could think of is I should of gone bigger! But I needed to save some money for the 18 new fruit trees I planted last month. I now have 35 dwarf fruit trees in my yard in large pots.
Bonus:
This was an idea that came out even better than I had envisioned. The nasturtiums climb all around the bench.