About a dozen garden shops in the St. Louis area participate in the program as satellite recycling centers, where customers can sort and drop off their plastic pots. "Each sites hosts a trailer, brings it in when it is full, and returns with an empty one," Cline says. Steve Cline sorts plastic pots and cell packs at the Missouri Botanical Garden's recycling program, where they collect 100,000 to 140,000 pounds of horticultural plastic every year. Cline, former director of the Garden's Kemper Center for Home Gardening, started the program in 1998.
The botanical garden's Pots to Planks program sells 6″ x 6″ timbers made from ground-up pots (No. 2 and No. 5 plastics). The rigid, heavy timbers are great for raised beds and strong enough to use for retaining walls. "They are fantastic," Cline says.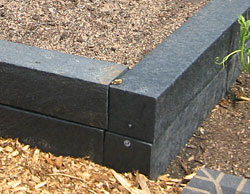 "It's a lot of plastic in one product, but we're trying to get rid of it, and it's useful to gardening." Each 6 x 6 weighs 90 pounds.
One six-pack leads to another. In the course of a gardening season, a potting shed gets cluttered with stacks of the black plastic cell-packs that bedding plants are sold in — not to mention larger pots of every size and color.
Before You Toss …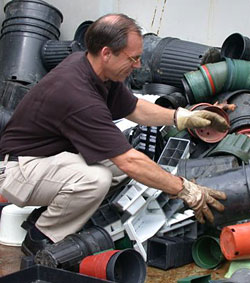 Ways to reuse plastic pots, cell-packs, trays, and labels
Start your own seeds in cell-packs and small pots.
Use larger pots to pot up divisions and transplants for plant sales.
Larger plastic pots are also useful for propagating cuttings.
Cut the bottoms out of plastic pots and use them to create a barrier against voles and cutworms.
Big, bushel-sized plastic pots are great for tossing weeds into as you work in the garden.
Use plastic pots to scoop for potting soil; block the holes with a strip of duct tape.
Plastic plant labels make great bookmarks, especially in a garden journal. If they are blank on one side, use them to label new plants.
Store hand tools, garden gloves, twine, and other small supplies in plastic pots.
Large plastic pots can be used as a garden trug, to carry tools out to the garden or for harvesting (and rinsing) vegetables.
Crush empty six-packs and put them in the bottom of large flowerpots; you won't need to put quite so much potting soil in the pot, and the cell-packs are lightweight.
"It's just human behavior to save containers," says Steve Cline, former director of the Kemper Center for Home Gardening at the Missouri Botanical Garden in St. Louis. "But the question is, 'What am I going to do with it?'" In 1998, Cline launched a horticultural plastic recycling program, inviting members of the botanical garden, known locally as MoBot, to bring their plastic pots to the garden.
"It was two Saturdays in the springtime, and we collected 6,000 pounds of plastic," he says. "It was pretty convincing." Since then, the program has collected more than 500 tons of plastic cell-packs, pots, hanging baskets, and trays — black and colored horticultural plastics labeled with the triangular three-arrow symbol bearing the numbers 2 (high-density polyethylene), 5 (polypropylene), and 6 (polystyrene).
The Missouri Botanical Garden's plastic pot recycling program is the largest and most successful program for recycling horticultural plastics in the country. No. 2 and No. 5 plastics are ground up and used to make plastic lumber suitable for raised beds and retaining walls. The timbers are sold back to gardeners. "It's a closed loop," Cline says. No. 6 plastics are baled and sent to East Jordan Plastics in Michigan. The company, one of the largest makers of plastic pots in the country, grinds up old pots, cell-packs, and trays and recycles them into new plastic pots.
In St. Louis and elsewhere in the country, not all garden plastics are allowed in curbside recycling. Where they are allowed, these they might simply be baled up and shipped overseas for processing, says Mary Patterson, waste division supervisor for St. Louis County. That's better than the alternative. When they enter landfills in trash bags, they're "almost like a mattress," Cline says. "They don't break down or compress."
MoBot's program has become a model for others: many botanical gardens, garden shops, and big-box stores are working on pot-recycling projects. "When we started, there was zero recycling" of horticultural plastics, Cline says. "Now we're all thinking about it, and that's the way it should be."
—Marty Ross
Marty Ross is a garden journalist and gardener who lives in Kansas City, MO, and Virginia's Tidewater region. She has a community garden plot and grows lettuce and herbs in pots on her front porch.