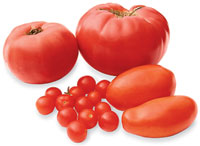 Last week, we had a contest on Facebook called Ready, Set, Sow! On our short entry form, we asked, "What seeds will you be sowing this year?" We got lots of feedback, including:
Tomatoes and lots of them!
Lots of herbs, lots of heirloom tomatoes, green beans, squash, zucchini, cucumbers, garlic, onion, potatoes, etc.
Lots of flowers!!!!!!!!!!!!!
I will be sowing seeds of love, peace, and wisdom. All my seeds will be heirloom and organically grown with love and blessings.
Using a tag cloud generator, we distilled the responses into the following representation. Clearly, tomatoes are at the top of the list, with peppers close behind. Did your favorites make the list?