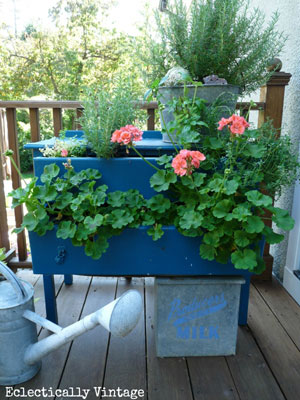 What happens when a skilled decorator turns to gardening? Blogger/decorator Kelly Elko of EclecticallyVintage.com took a $7 thrift shop dresser and turned it into a striking centerpiece for her patio.
The project was simple. She gave the dresser a fresh coat of paint, lined the drawers with plastic, drilled some drainage holes and filled the drawers with potting soil and plants. For details, read Kelly's post, Dress Up Your Plants with a Dresser.
In addition to the dresser, Kelly has also dressed up galvanized tubs, mop buckets and wooden toolboxes by adding drainage, soil and plants. "I've got some more fun ideas up my sleeve for spring/summer," Kelly says. See more of her inspirations at eclecticallyvintage.com.