Unlike my Pink Flamingo friends, many of whom feel like members of an informal clan of nonconformists, Bottle Tree People are unique, rarely trying to rile up neighbors.
Introduced to America in the 1600s, bottle trees originated in the Middle East where, based on 3,000-year-old Arabian folk tales (remember Aladdin and his lamp genie?), they were thought to capture bad spirits. Whether or not you buy into superstition, they are certainly interesting garden accessories.
After 40 years of photographing them on five continents, including every corner of our own country, I can assure you that bottle trees are not just "a Southern thang." I have seen glass used in incredible homemade garden displays and some unearthly "art garden" installments, including Dale Chihuly's fantastic glass garden art. In fact, you could say that bottle trees are just "poor man's Chihuly."
And bottle trees shouldn't be labeled as tacky. All we are doing, as English glass artist Jennie Pickford puts it, is "holding glass up to the sky so its colors can sing." It's like colorful earrings for the garden. Or as I put it, joie de vivre on a stick.
From fanciful to serious works of art, monochromatic with all-blue or all-green bottles or a kaleidoscope of wild colors, bottle trees are strong focal points in any garden. Plus, they help stave off seasonal affective disorder (the winter blues) by keeping color right outside our windows. On a practical note, I often grow vines — including climbing tomatoes — on one of mine.
Bottle Tree People are so misunderstood…
We Bottle Tree People can hold up our heads and smile, knowing we are fun-lovingly expressive in our gardens. And deep down, we know that our neighbors are going to talk about us anyway.
View more photos from Felder Rushing's collection of bottle trees from around the world.
---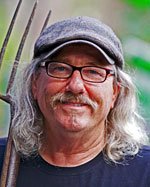 Felder Rushing, founder of Slow Gardening, is a fun-loving horticulturist who spends half the year tending his celebrated Mississippi cottage garden, and the other half on a small farm in Shropshire, western England.The syndicated columnist and host of a NPR-affiliate radio program has written 18 books and had features and photographs in nearly every garden magazine. His latest book, Bottle Trees and the Whimsical Art of Garden Glass, can be found at online book stores; you can find out more about bottle trees from his web site, felderrushing.net.