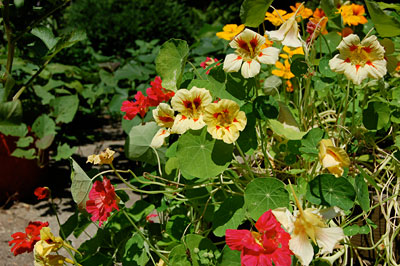 This mass of nasturtiums demonstrates that it's possible to have too much of a good thing — or, perhaps, too many kinds of a good thing. Planted together here are: Cherries Jubilee in the foreground, Peach Melba Superior in the middle ground, and Creamsicle at the back. To see more nasturtiums, watch my slideshow.
As seed catalogs begin to arrive in my mailbox, I am excited to see the new varieties of vegetables and flowers that I can grow from seed. My particular obsession is with nasturtiums. They grow so beautifully among my vegetables and herbs, whether in containers or raised beds, that I try more varieties every year. Because they prefer "lean" soil, they thrive well in my inferior, sandy backyard. As a bonus, the flowers are edible and add color and spicy flavor to summer salads.
More Information
How to Grow Nasturtiums: Learn the basics and watch a slideshow from my garden.
I decided to plant my all-time favorite, Peach Melba Superior, from Botanical Interests. I rounded out the warm range of yellows and oranges that appear from Creamsicle and pale, ethereal yellows of Cup of Sun from Renee's Garden. I decided to experiment with some deep pinks for variety; I tried both Cherries Jubilee from Renee's and Cherry Rose Jewel from Botanical Interests. Frankly, I had a difficult time telling them apart when they bloomed!
Last spring I started some plants in our 2-3/4″ 6-Pack Cowpots and Germinating Mix, then transplanted my seedlings into containers, raised beds and directly into the garden. You can see the results in my slideshow.
Varieties I'll Try in 2013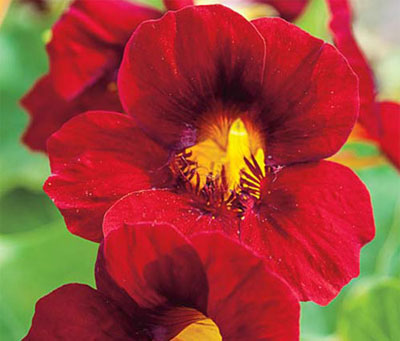 Crimson Emperor is available from Thompson & Morgan, a British seed company.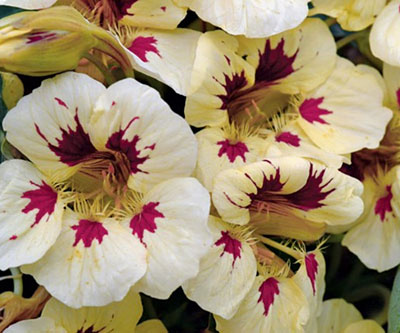 Ladybird Cream Purple Spot is sold by Sunrise Seeds.
—Susan Romanoff
Susan Romanoff is creative director at Gardener's Supply.