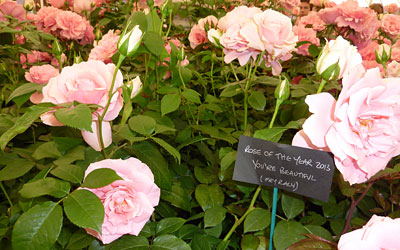 The Rose of The Year for 2013, You're Beautiful, on display at the Hampton Court Flower Show. This floribunda produces an abundance of bright pink, lightly scented flowers. Height and spread: 3×3′.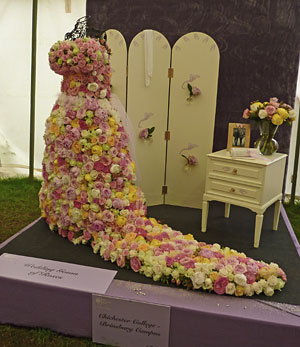 Fashion meets horticulture in this strapless gown crafted from hundreds of roses.
Our team of designers and buyers is always looking for inspiration. Last summer a group of us found plenty of it at the RHS Hampton Court Palace Flower Show. Established in the early 1990s, this English flower show has become one of the world's largest.
For more ideas, see a slideshow from our trip to Hampton Court.
As we walked through the spectacular displays, we looked for trends in garden design, noteworthy plants, and gardening activities. We were pleased to see an emphasis on community gardening and grow your own. Great Britain has a strong culture of gardening, so it's a pleasure to be among so many like-minded enthusiasts.
If you want to attend the 2013 show, mark your calendar for July 9 to 14. Details at the Royal Horticultural Society.