In the backyard of our offices in Burlington, VT, you will find our test garden, where Deborah Miuccio tests products we sell or innovations we hope to bring to market.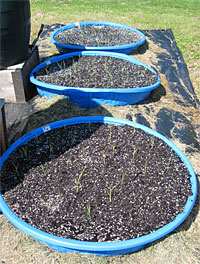 During the gardening season, it's fascinating to see all the tests in progress, including Grow Bags, vegetable supports and Tomato Success Kits. This year, one of the more unusual tests involves three kiddie pools. Each pool is filled with soil and what looks to be a lush crop of tall, green grass.
Upon closer inspection, you can see that it's not grass, but rice, a grain that thrives in boggy soil. What's the point?
A lot of the land in Vermont's Champlain Valley is too wet for conventional crops. Could it be used to grow rice? How would the crop be affected by surface runoff and periodic flooding from the Winooski River?
These are the questions being asked by Gardener's Supply founder Will Raap, who wants to build more resilient food and energy systems with local capital. He got interested in rice when he heard about farmer Erik Andrus, who has started growing rice at Boundbrook Farm near Vergennes, VT. "The heavy soil, the poor drainage and excess rainfall have all been detrimental to our efforts to grow various dryland crops over the years," he says. "But for rice, each of those disadvantages becomes an advantage."
Vermont is a good place for other reasons, too. "With accessible government, an economy dominated by small locally owned businesses and unifying values, Vermont is providing a model and a map for a more sustainable state economy," Raap says.
Erik, who has lived in Japan and learned about growing rice in northern climates, believes rice might become a viable crop for New England farmers and this test will help pave the way.