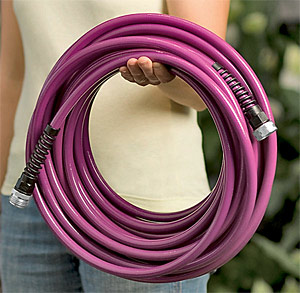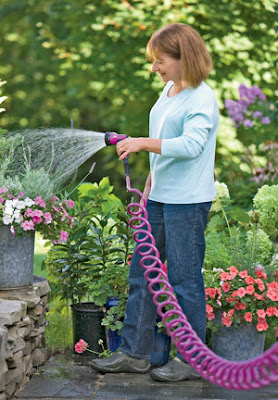 Our Super Slim Hose, left, and Super Slim Coil Hose, right, are made from drinking water-safe polyurethane.
A spate of recent news stories have cited a May 2012 study by the Ecology Center that recommends that homeowners seek drinking water-safe garden hoses. The study highlights the potential health hazards of drinking water from some types of hoses. In some of the hoses, they found elevated levels of lead, BPA and other toxins in water that had been left sitting in the hose. They recommend hoses made from polyurethane or natural rubber.
We're happy to report that our Super Slim Lightweight Hoses and Super Slim Coil Hoses are drinking water-safe!
Super Slim hoses are made in USA with the highest quality, drinking water-safe, virgin polyurethane that meets both FDA and NSF standards. They're 100% lead-free, phthalate-free and PVC-free. The fittings are double-plated with both nickel and chrome for durability and safety.
Commonsense Hose Safety
Let it run. Water left sitting in a hose is a potential breeding ground for microbes, which pose a more immediate health hazard than leached toxins. Simply turning on the hose and letting it run to flush out water that has been sitting in the hose will go a long way to minimizing risk. Do this before using your hose to fill pet water bowls, kiddie pools and birdbaths. Most experts caution against drinking from any hose — even a water-safe hose — because of the risk of bacterial contamination.
Store hoses properly. If possible, drain your hose between uses and store it in the shade. This helps minimize the potential for contamination, and it prolongs the life of the hose.
Learn More
The Ecology Center is a Michigan-based nonprofit environmental organization that reviews consumer products.