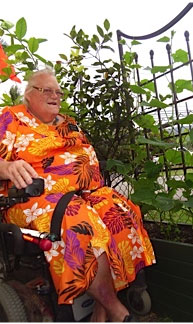 Ann Watson, Hawaii
Even though it snowed last week here in northern Vermont, we know the spring planting season is well under way in many parts of the country. One of our customers, who also happens to be a product tester for us, is lucky enough to garden year-round. Ann Watson, from Laie, Hawaii, is also an inspiration. Here is her story:
"I have always tried to have a garden wherever I have lived. But after my stroke in 2001, I asked myself how I could continue gardening. At that time, I was paralyzed on the right side. I have also been legally blind since birth. But as my parents taught me, when things happen, you need to pick up the pieces and keep going. So after my stroke I did that. I couldn't lift, so by having raised beds at 18.5" high, I could reach my plants from my wheelchair. Gardening is therapy for me. It is something I can do in spite of my disabilities.
"My favorite things to grow are the things I can eat, such as tomatoes, cucumbers, chard, potatoes, lettuce and greens, asparagus, herbs and green onions. Being 300 feet from the ocean, it's a challenge to find what plants can take the tradewinds and salt air. I try to compensate for this by putting up shadecloth, and this has helped with most plants. The big challenge is to find what type of plants grow well in different locations in the yard and what times of the year they can grow. I have learned that I cannot grow summer squash and corn, but I can grow greens eight months of the year. Thanks to the casters on the planters, I moved my cucumbers to different parts of the yard until I found the best place for them."
Ann says that Gardener's Supply products help her grow the vegetables she loves to eat.
She has eight Tomato Success Kits on Tomato Success Trolleys, 17 self-watering Terrazza Trough Planters, and 11 Terrazza Raised Beds with casters on all of them so they can more easily be moved. All of these planters have been filled with more than 300 bags of Organic Self-Watering Container Mix. Her Self-Watering Windowboxes — 13 in all — were the first products she bought from Gardener's Supply, back in 2007. She uses organic All-Purpose Fertilizer on her plants and collects rainfall in four Flat-Back Rain Barrels.
She can service all these containers from her wheelchair. Ann notes, "My good neighbor helps me when some of the trellises and Tomato Ladders need repositioning. She is the one who helps me to tie up the plants where I cannot reach. But, I do the planting, watering and harvesting of the crops."
Ann's other hobbies include woodworking, making patchwork quilts, and traveling. She has been to Denmark, Russia, Hong Kong, Macau, China, Korea, Japan and Fiji. Ann says, "I do travel a lot, even by myself internationally. I enjoy meeting and being with people. Many of the people are surprised to see an individual such as myself travel. I rent space in my home to international students, and some students invite me to visit their home countries."
Ann has recently been asked to run a church garden club in Laie to help teach others what she's learned about gardening in her region. We thank Ann for sharing her story, and for helping us spread the joys and rewards of gardening.