When are the desert wildflowers going to bloom, so we can time our trip to see them at their peak? Where are the best places to see them? Questions like these flood state and national parks, public gardens and tourism offices in the Southwest.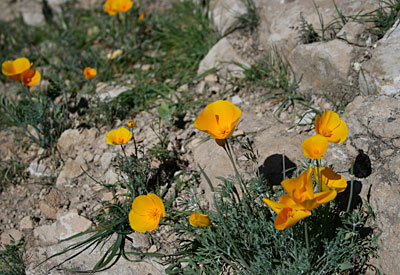 Mexican gold poppies.
Where and when to find the best spring wildflower displays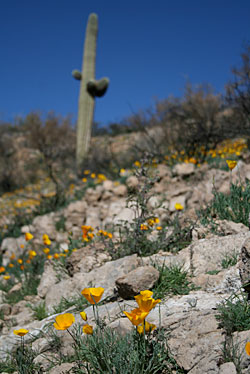 Mexican gold poppies with a saguaro cactus in the background.
About the author: Phoenix-based author Cathy Cromell has written for national and regional publications, including Better Homes and Gardens, Sunset Publishing, Phoenix Home & Garden magazine and the National Gardening Association. She is the author of Composting for Dummies, as well as books on desert gardening and landscaping.
Moving from her childhood home in northern Minnesota to the desert Southwest, she quickly learned that even in such radically different climates, the same gardening basics apply. Creating healthy soil and selecting plants adapted to the conditions are vital for growing healthy plants, no matter where you garden.
When are the desert wildflowers going to bloom, so we can time our trip to see them at their peak? Where are the best places to see them? Questions like these flood state and national parks, public gardens and tourism offices in the Southwest. I remember a caller from Japan who contacted our volunteer hotline in Phoenix a year in advance of his trip, confident that people who called themselves "Master Gardeners" could tell him exactly when to fly to Arizona for maximum photo ops. Unfortunately, we couldn't.
Mother Nature isn't in the trip-planning business. Predicting the timing — and extravagance — of her wildflower displays from year to year is impossible because the plants are dependent on specific combinations of rainfall and temperature. Spring-blooming wildflowers that paint the deserts with lavish color are annuals. They germinate from late September to early December when soil temperatures are appropriate and they receive a one-inch "triggering rain." After germination, seedlings require regularly spaced rainfalls totaling at least one inch per month through March for peak bloom. The deserts seldom receive such ample moisture, and optimal conditions occur only about once every 10 years.
Less spectacular — but still tourist-worthy — wildflowers may appear every three to four years, with some species thriving while others flag due to the wildly variable weather conditions that occur at different elevations and regions. Warm temperatures may induce flower stalks, for example, but if it's too warm, plants dry out and the flowers never develop.
As a general guideline for trip planning, wildflowers are at their flashiest for about two weeks between late February and mid-April, with early to mid-March the usual peak.
The following web sites cover prime locales for viewing the Southwest's spring wildflowers — or for simply enjoying their photos. I find it encouraging that many perennials, shrubs, trees and cacti bloom fairly reliably each spring. Although it may not be a banner year for annuals, there is always something blooming somewhere. Head out to explore with what the friendly staff at California's Anza-Borrego State Park call "a sense of discovery." Maybe you'll be the lucky one to chance upon a seldom-seen blossom.
Arizona
Arizona State Parks:
On the Ranger Cam 2012, you can see weekly updates — including flower photos — starting with low-elevation flowers in February, transitioning to cacti blooms in April and May. Posts from previous years are available as well. Parks located at higher elevations will begin posting for the first time in 2012, extending information into early summer. Also check AZ State Parks on Facebook and Twitter for updates or call the Wildflower Hotline at (602) 542-4988, 8 a.m. to 5 p.m. Monday to Friday.
Desert Botanical Garden:
Expect abundant blooms during March and April on the well-tended Harriet K. Maxwell Desert Wildflower Trail.
Wildflower Infosite:
A collaboration with 21 parks, gardens and recreational areas providing updates on what's blooming in the deserts of central, southern and western Arizona. The site is live only during peak bloom months of March and April.
Southern California
Anza-Borrego Desert State Park:
Join the e-mail list of their nonprofit partner, Anza-Borrego Foundation, to receive updates on wildflower sightings.
Joshua Tree National Park:
On the Wildflower Viewing page, you can download a PDF of weekly updates, organized by flower color, location and floral abundance on a scale of 1 to 10. A rating of 1 equals a few blooms; 10 means get out your camera!
Texas
Lady Bird Johnson Wildflower Center:
Celebrate Wildflower Days™, March 12 to May 31. A warm winter and good rainfall in autumn and early spring combined to produce dinnerplate sized bluebonnet plants as of mid-February. The Center's senior director and botanist, Damon Waitt, expects the infamous flowers to flash their colors the last week of March or first week of April in Central Texas, earlier in South Texas. Peak bloom should be around April 15, trailing off through May. Look for their detailed forecast on the web site and Facebook.
What's in Bloom This Week includes photos and plant descriptions of current blooms at the Center. Check Facebook or Twitter for up-to-date reports.
Texas Department of Transportation:
Check the Wildflowers and Fall Foliage Map. More information: (800) 452-9292, 8 a.m. to 5 p.m. Monday to Sunday.
Southwest
Desert USA:
Review the Wildflower Reports for public postings for Arizona, California, Nevada, New Mexico, Utah and Texas.
—Cathy Cromell