Louisiana's Coastal Roots program is using gardening to restore the coastline damaged by last year's oil spill. How? Since 2000, the program has taught thousands of children how to grow native plants to help restore coastal forests, wetlands and shorelines.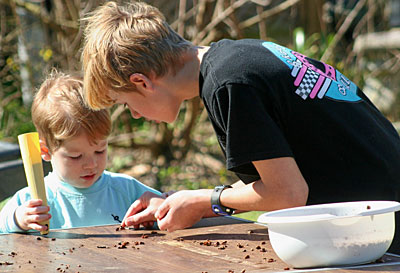 Middle school and preschool students at Bishop Noland Episcopal Day School in Lake Charles, LA, team up to plant bald cypress seeds.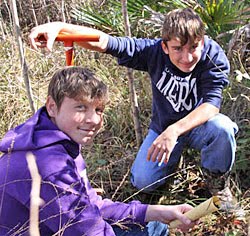 Students plant seedlings in the Louisiana coastal forest.
Do you ever wonder what kind of impact you're making in your backyard by gardening?
Consider the April 2010 Gulf Coast oil spill: Gardening might not immediately come to mind as a solution to the devastation in the region, but is definitely part of the solution. Since 2000, Louisiana State University's Coastal Roots program has taught thousands of children how to grow native plants to help restore coastal forests, wetlands and shorelines damaged or eroded by storms. They've done the same with land damaged by last year's oil spill.
Ed Bush and Pam Blanchard, professors at LSU, are the creators of Coastal Roots, where schoolchildren (K-12) learn to grow, nurture and transplant native species, such as black mangrove, hackberry, Louisiana iris, swamp red maple, tupelo gum and beach dune grasses. Once the seedlings and grass plugs are ready to plant, the students take a field trip to the site of the "planting partner," which could be a state park, a wetland or a site damaged by hurricanes or the oil spill.
Some Gulf Coast forests, such as those in Fontainbleau State Park on the north shore of Lake Ponchartrain, lost nearly 80 percent of the mature tree cover in recent hurricanes. The oil spill severely impacted many of the beaches, resulting in loss of grass cover that deters erosion from storm surges and waves. Gulf Coast estuaries have lost between 20 and 100 percent of their sea grasses, essential habitat and food sources for hundreds of species of fish and other animals. Louisiana's coastline is receding faster than anywhere else in the country.
We first learned about Coastal Roots when Ed Bush was awarded the 2008 Garden Crusader Grand Prize. Since then, the program has expanded into Mississippi. There's a lot to love about this program, especially because the oil spill has brought attention to an already fragile coast. Coastal Roots integrates plant science in the context of a real-world program and provides a hands-on opportunity to help. Started in 2000, more than 6,619 students have planted 56,811 plants on 152 outings.
When students see how their work can help restore these important habitats they have a tremendous sense of pride. Blanchard has seen how this experience makes a lasting impression and she hopes that this work will lay a foundation for making good decisions about Louisiana's natural resources.
Pam Blanchard talks about Coastal Roots.